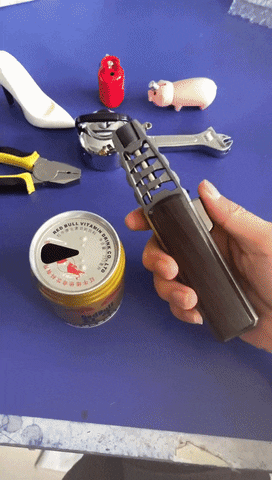 Ultra powerful blue flame torcher with 3 settings based on intensity
The strongest intensity can heat upwards to 1300C+ and go through metal!
Multi-purpose: Can be used for grilling meats, creme br?lées, glazing, cigars, charcoal, and much more
Can be used both indoors and outdoors as it is windproof
Easily refilled with?Butane
Comes in two colors – Wood and Carbon
Travel friendly size measuring 17.5 cm x 3.5 cm

1. What should I use to refill the lighter?

Fill the lighter with

?BUTANE only.?

Turn the lighter upside down so the bottom faces upwards and it's top rests on your work surface. Insert the grommet covered tip of the applicator into the refill valve. Press down on the bottle to disengage the refill bottle's release valve.




2. Where is this made??

This product is designed in

?

Canada,

?

with one of our partner manufacturers. Take note that this product is only

?EXCLUSIVE for JAUNTER. Beware of fake items. We advice to only deal with Jaunter and/or our partners.?

3. How long should the refill last?

It actually depends on how you use it. With continuous use (Mid Setting), it can fire up to

?

35-40 minutes.

4. Why is not my lighter not working?

Check the lighter to see if you have correctly filled it.?

Press the switch until it clicks and hold it. If the lighter hisses, you are golden. If it doesn't hiss, it would be a good time to refill the lighter. Work in a flat surface.

?

ALWAYS REFILL YOUR LIGHTER UPSIDE DOWN.

Avoid dropping the lighter. It may cause some mechanical parts to not function properly.?