We face a myriad of challenges each and every day. Cleaning clogged drains, thankfully, no longer has to be one of them–thanks to the Tub Shroom. Tub Shroom is a bathtub hair stopper fits snug inside your shower tub drain, effortlessly gathering each and every hair that tries to make its way down your vulnerable drain. It's the hero you deserve in your bathroom. You can rest easy knowing that Tub Shroom works great for all kinds of hair– human and pet alike. No more exorbitant bills from the plumber and no more having to use harmful chemical-based drain cleaners that damage your pipes.
A Revolution in Drain Protection: Unlike regular plugs that go over the drain, TubShroom fits inside, neatly collecting hair around it. When it's time to cleanup, simply wipe TubShroom off and GO! No harsh chemicals, no more tangled messes.

No More Clogged Drains: Our bathtub drain strainer fits any standard tub drain and is guaranteed to catch every hair, every time. TubShroom is designed to effortlessly catch any type of human or pet hair without disrupting the flow of water.

Save Money and the Environment: A single plumber visit can cost hundreds. Drain snakes and liquid drain cleaners are a hassle to use and aren't always effective—not to mention the toll they take on the environment and on your pipes.
Steps: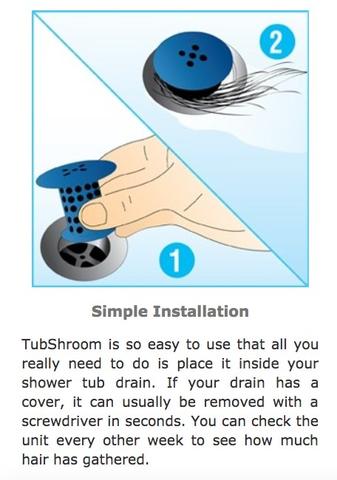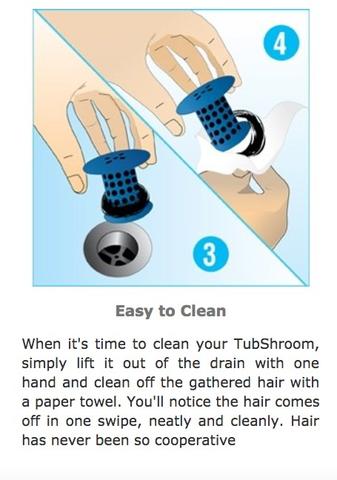 Product information:
| | |
| --- | --- |
| Product Dimensions | 2.2 x 2.2 x 2 inches |
| Item Weight | 0.48 ounces |
| Shipping Weight | 8.8 ounces |